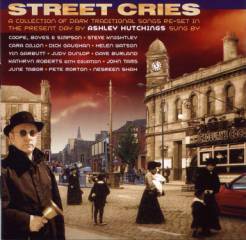 Street Cries
Ashley Hutchings and various artists:
Topic Records TSCD535
Sung by Coope, Boyes & Simpson,
Dick Gaughan, Helen Watson, Vin Garbutt, Judy Dunlop,
Dave Burland, Kathryn Roberts with Equation, John Tams,
June Tabor, Pete Morton, Nasreen Shah.
Each song is based on a traditional work and has retained the original tune - only the words have been changed. A cast of major contemporary interpreters of traditional song was chosen, song by song, and each has contributed mightily - producing a program of outstanding performance. In addition to that, the sensitive arrangements and backings have enhanced the whole project still further - producing an album that is both adventurous and highly enjoyable.
I've seen unwholesome places,
Known many hopeless cases,
And read the pain in the faces
Of those who had no hope.

No matter what their ages,
Or if they held down wages,
I've filled these endless pages,
With those who'll never cope.

Now, some steal at leisure,
He never stole for pleasure,
Food and toys were treasure,
For the family, his pride.....

From Endless Pages

Tune: Traditional
Lyrics : Ashley Hutchings(from traditional sources)

Steve Knightley: vocal and mandocello
Pete Zorn: alto sax
Bold Poachers

Concerning of three young men,
One night in January,
According to laws, contrary,
A-poaching went straight way.

They were inclined to ramble,
Amongst the trees and brambles
A-firing at the pheasants,
Which brought the keepers nigh

The keepers dared not enter,
Nor cared the woods to venture,
but outside near the centre,
In them old bush they stood.

The poachers they were tired,
And to leave, they were desired,
And, at last, Young Parkins fired,
And spilled one keepers blood.

Fast homeward they were making,
Nine pheasants they were taking,
When another keeper faced them,
They fired at him also.

He on the ground lay crying,
As like some person dying,
With no assistance nigh him,
They can't forgive their crime.

Then they were taken with speed,
All for that inhuman deed,
It caused their hearts to bleed,
For their young tender years.

There seen before was never,
Three brothers tried together,
Three brothers condemned for poaching,
Found guilty as they stood.

Exiled in transportation
Two brothers they were taken
And the other one hung as a token,
They can't forgive his crime.

Traditional Arr.
This song is the traditional source used by Ashley Hutchings for his song Endless Pages.