Give Me a Saddle, I'll Trade You a Car
Albion Band '89
Topic Records 12TS454 (LP, UK, May 1989)
Topic Records TSCD454 (CD, UK, 1989)
Recorded at Ideal Sound Recorders, London 1989
Engineered by David Kenny and John Acock
Cover photos by Jonathan Swain
Design by Tony Engle
the ensemble
Phil Beer, vocals, guitars, fiddle, mandolin
Simon Care, melodeon, concertina
Trevor Foster, drums
Ashley Hutchings, vocals, electric & acoustic bass guitars
John Shepherd, electric keyboards
with guests:
Pete Zorn, soprano & alto saxophones
Bill Zorn, backing vocals (bass voice)
Cliff Stapleton, hurdy gurdy on Cardhouse
Swan Arcade (Dave & Heather Brady, Jim Boyes), vocals on Throw Out the Lifeline
Tracks 1, 2, 6, 9 Ashley Hutchings (Albino Music)
Track 3 Phil Beer, Simon Care (Copyright Control / Albino Music)
Track 4 Francois Villon, Phil Beer (Copyright Control)
Track 5 Bob Dylan (Widmark Music)
Tracks 7, 8 Ashley Hutchings, John Shepherd (Albino Music)
Track 10 Phil Beer (Copyright Control)
Track 11 Phil Beer, John Shepherd (Copyright Control / Albino Music)
Track 12
Rev. E.S. Ufford
arr. Albion Band (Albino Music)
Sleeve Notes
Geoff Collings is my version of the ancient ballad Child Colvin - variously collected in this century as Giles Collins and George Collins. The chief protagonist now rides out on the tube train and his lady-love watches the television but, as in Wim Wender's film Wings of Desire, the mythic and fantastic can exist in the modern world just as in the past.
Throw Out the Lifeline is a temperance song written by the Reverend E.S. Ufford. In mid-Victorian England the Temperance Lifeboat Crews carried the metaphor of a sailor drowning in a sea of liquor to extremes, dressing up as lifeboat men and marching with model boats to protest outside taverns. Legend has it that the officer in charge of a half-full lifeboat exhorted his fellow survivors to sing this song lustily in order to obliterate the cries of the drowning multitudes after the sinking of the Titanic.
That great anti-hero Jimmy Porter is alive and drawing his pension in Ash On an Old Man's Sleeve. Acknowledgements are due to a representative of the old guard (theatrically speaking) in the shape of T.S. Elliot, who gives us the song's title, and to the erstwhile new wave's John Osborne who, of course, wrote Look Back in Anger, which propelled Jimmy into legend.
Francois Villon was the greatest poet of medieval France. He was also a thief, brawler, libertine and vagabond. Set Their Mouths to Twisting is one of his "poems in slang" (free-verse translations by Anthony Bonner) which more calls to mind the black-and-white French movie heavy Jean Gabin than Geoffrey Chaucer.
[Ashley Hutchings]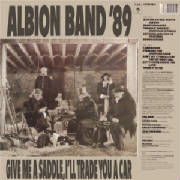 tracks
side one
1. Ash on an Old Man's Sleeve (3.38)
2. Geoff Collings (4.22)
3. Thomas' Morris / Postman's Polka (3.30)
4. Set Their Mouths to Twisting (2.38)
5. Seven Curses (5.29)
side two
1. Cardhouse (3.06)
2. Striking for Another Land (5.50)
3. Bury My Eyeballs On Top of Boot Hill (3.26)
4. Kitty Come Down the Lane (3.42)
5. Think It Over (4.00)
CD bonus tracks
1. Don't Look At Me / Trip to Cheltenham (4.06)