A Garland Of Songs And Dances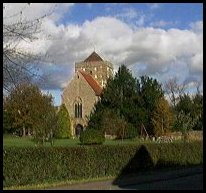 The Church, at Etchingham
During 1974 and 1975 Shirley Collins and Ashley Hutchings led a remarkable acoustic ensemble playing the traditional music of southern England, around the folk clubs and festivals of Britain. Twenty-seven years later, this important historical collection draws upon a number of private live recordings.
Named after the village in Sussex where he and Shirley Collins were living, the Etchingham Steam Band was an all-acoustic project of Ashley Hutchings, put together in early 1974 and featuring Shirley Collins as vocalist (who had earlier contributed similar material to both "No Roses" and "Morris On"). Initially formed around the nucleus of Shirley, Ashley, Ian Holder and Terry Potter (with occasional contributions from Simon Nicol), it transmuted into a larger, more flexible operation around mid 1974 with, at various times, contributions from Will Duke, Mel Dean, Vic Gammon, Dave Mattacks, and even Peter Knight (according to Pete Frame's "Rock Family Trees"), plus Eddie Upton as dance caller. Eventually, a subset of the Etchinghams became the more "electric" Albion Dance Band, in 1975, which included Dave Mattacks as more of a permanent drummer (shared with Fairport Convention duties), and brought Graeme Taylor (ex Gryphon) and John Tams (ex Muckram Wakes) into the Hutchings fold for the first time.
The personnel varies on each track:
Shirley Collins, vocals; Ashley Hutchings, Tambourine, Vocals, Acoustic Bass; Ian Holder, Accordion; Dave Mattacks, Drums; Terry Potter, Mouth Organ; Mel Dean, Concertina; Will Duke, Concertina; Vic Gammon, Banjo, Concertina, Vocals, Melodeon.
All tracks Trad. arr. Etchingham Steam Band
Tracks 1-4 recorded 1975, Lenzburg Folk Festival, Switzerland
Tracks 5, 7, 14 recorded 1974, Norwich Folk Festival
Tracks 6, 10 recorded December 1975, `Nova Scotia', Bristol
Track 8 recorded October 1974, London
Track 9 recorded December 1974, Cecil Sharp House London
Tracks 11-12 recorded July 1975, Lewes Folk Festival, afternoon session
Track 13 recorded July 1975, Lewes Folk Festival, evening session
A Little Music
A collection of folk songs, instrumental tunes and dances
selected and compiled by
Ashley Hutchings
Copyright © 1976 Island Music Ltd
no ISBN, Order# IS 5176 E
Introduction by Fred Woods

This songbook contains titles from various groups and albums into which Ashley Hutchings has been involved, i.e. Fairport Convention, Steeleye Span, Albion Country Band, Etchingham Steam Band and Albion Dance Band:
Nottamun Town

A Sailor's Life

Matty Groves

The Deserter

Beg Your Leave

Willow Tree / Bean Setting / Shooting

Cuckoo's Nest

Sir Roger De Coverley

Off She Goes

Three Handed Reel

College Hornpipe

Gallant Poacher

Come All You Little Streamers

Three Jolly Black Sheepskins

Old Sir Simon The King

Hopping Down In Kent


.

Come All You Little Streamers

Oh come all you little streamers wherever you may be
These are the finest flowers that ever my eyes did see.
Fine flowery hills and fishing dells and hunting also
At the top of yonder mountain where fine flowers grow.

At the top all of the mountains where my love's castle stands
It's over-decked with ivory to the bottom of the strand.
There's arches and there's parches and a diamond stone so bright;
It's a beacon for a sailor on a dark, stormy night.

At the bottom of the mountain there runs a river clear.
A ship from the Indies did once anchor there,
With her red flags a-flying and the beating of a drum
Sweet instruments of music and the firing of her gun.

So come all you little streamers that walks the meadows gay
And write unto my own true love wherever he may be
For his sweet lips entice me, but his tongue it tells me "No!"
And an angel might direct us and it's where shall we go

Ashley Hutchings notes in his songbook, A Little Music:

This strange song comes from Ned Spooner of Midhurst, Sussex, (although other, similar, versions exist). It was printed in the Journal of the Folk-Song Society, No. 17, 1913, together with exhaustive notes on its possible origin. In short, it is suggested that there is a religious mystical allegory in its background. I would refer those who would like to know more to the article.