Human Nature
A Collection of New Songs Observing the Human Relationship With Creatures and Plants
Ashley Hutchings
Recorded at Foundry Recording Studios, Chesterfield, Derbyshire in the Winter of 2002/03
Engineer: Paul Hopkinson, assisted by Mick Twelves
Producer: Ashley Hutchings
Track 11 was partly recorded and mixed by Ken Nicol ar MVS Sound, Preston, Lancastershire
Booklet design by Malcolm Holmes for Johnny Boy Productions
All photos taken by Carlos Guarita from the "Theatre of the Seasons" Exhibition, © Carlos Guarita
(P) & © 2003 Talking Elephant
Stand Quite Still (3:53)
Steve Knightley, lead vocals; Pete Zorn, backing vocals; Ken Nicol, acoustic & electric guitars; John Shepherd, keyboard; Nip Heeley, drums
If There's No Other Way (5:19)
Polly Bolton, lead & harmony vocals; Ken Nicol, acoustic guitar; John Shepherd, keyboard; Joe Broughton, violin; Robin Wilson, violin; Joe Hamilton, viola; Anna Picken, cello; String arrangement by Joe Broughton
The Rockery Rock (3:09)
Rory ``King Bee'' McLeod, lead vocals; Ken Nicol, acoustic & electric guitars, mandolin; Pete Zorn, alto & baritone saxophones; Johnny Wood, upright slap bass; Nip Heeley, drums
This Blessed Plot (4:16)
Judy Dunlop, lead vocals; Barry Coope, lead vocals; Coope Boyes & Simpson, vocal chorus; John Shepherd, keyboard; Martin Bassersby, leader, cornet; Matthew Challendet, flugelhorn; Norman Horton, cornet; Vicki Wilmott, tenor horn; Ged Hankock, euphonium; Mike Sampson, baritone horn; James Pickering, tuba; Arrangement for brass by John Shepherd and Martin Bassersby
Don't Clear That Corner Away (3:09)
Ralph McTell, lead vocals, acoustic guitar; Ken Nicol, lead vocals, acoustic guitar
Art Nouveau (3:01)
Barry Coope, lead vocals; Ken Nicol, acoustic guitar; Joe Broughton, violin; Robin Wilson, violin; Joe Hamilton, viola; Anna Picken, cello; String arrangement by Joe Broughton
Brambles on a Hill (5:17)
Kellie While, lead & harmony vocals; Joe Broughton, violins, acoustic guitar; John Shepherd, keyboard; Ashley Hutchings, electric bass; Nip Heeley, drums
Our Stolen Season (3:56)
Emily Slade, lead vocals, acoustic guitar; John Shepherd, keyboard;
Good King Henry (2:55)
Pete Morton, lead vocals; Joe Broughton, acoustic guitar; Pete Zorn, whacky minstel's gallery (baritone sax, recorder, triangle, alto sax, slide whistle, flexitone)
You Never Know Where We Have Been (3:44)
Blair Dunlop, lead & harmony vocals; Pete Zorn, backing vocals; Joe Broughton, fiddles; Simon Care, melodeon; Ken Nicol, acoustic guitar, mandolin; Ashley Hutchings, acoustic bass
Harvest Will Come (4:28)
Ken Nicol, lead vocals, acoustic guitar, sampling; Martin Bassersby, leader, cornet; Matthew Challendet, flugelhorn; Norman Horton, cornet; Vicki Wilmott, tenor horn; Ged Hankock, euphonium; Mike Sampson, baritone horn; James Pickering, tuba; Arrangement for brass by Andrew Keeling
Just Human Nature (4:00)
Ashley Hutchings, lead vocals, electric bass; Jennie Sawdon, backing vocals; Joe Broughton, electric guitar; Kellie While, acoustic guitar; John Shepherd, keyboard; Nigel Corbett, fiddle; Nip Heeley, drums, percussion
Tracks 1, 3, 5, 6, 11 Ashley Hutchings, Ken Nicol (Albino Music / Copyright Control)
Tracks 2, 7, 9 Joe Broughton, Ashley Hutchings (Copyright Control / Albino Music)
Tracks 4 Ashley Hutchings (Really Wicked)
Tracks 8, 10, 12 Ashley Hutchings (Albino Music)
notes
What's Your Relationship?
A valid question given the theme of this, the brand spanking new recording from Ashley Hutchings. Ashley has recorded a new album entitled Human Nature. The theme of the album is the relationship between humans and plants and animals in its broadest context. There are 12 songs on the CD, seen listed on your right, written by Ashley and other writers. Among the writers or artists appearing are Ralph McTell, Kellie While, Pete Morton, Rory McLeod, Steve Knightley Emily Slade, Coope, Boyes & Simpson and Judy Dunlop. The last touring line-up of the Albion Band are also involved as is Ken Nicol, a string quartet and a brass band. The release date is set for April 2003, on Talking Elephant Records.
This is an event eagerly anticipated by many, and as with Ashley's other albums, we are going to interpret the album tracks with links to appropriate websites, plus links to the websites of the performers. Our relationship to nature is one that can bear close observation, the linking of the album tracks is our small contribution to this fascinating area of study, but we promise not to get too serious!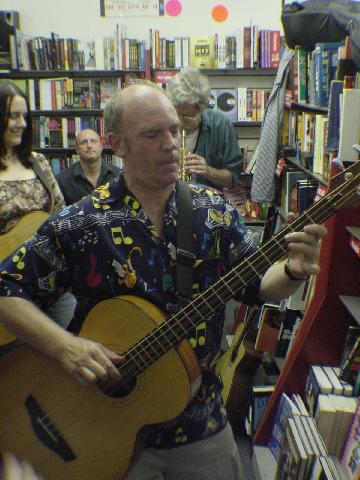 tracks
1. Stand Quite Still
2. If There's No Other Way
3. Rockery Rock
4. This Blessed Plot
5. Don't Clear That Corner Away
6. Art Nouveau
7. Brambles On The Hill
8. Our Stolen Season
9. Good King Henry
10. You Never Know Where We Have Been
11. Harvest Will Come
12. Just Human Nature



related internet links
our website which includes a
track by track descrption of
Human Nature