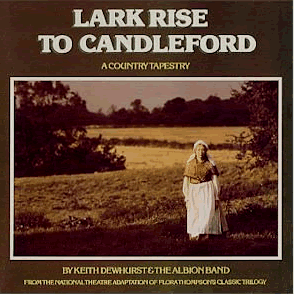 Lark Rise to Candleford
A Country Tapestry
Keith Dewhurst & The Albion Band
Charisma CDS 4020 (LP, UK, November 1980)
Charisma 7144-077 (cassette, UK, 1980)
Charisma CDSCD 4020 (CD, UK, 1991)
Talking Elephant TECD097 (CD, UK, September 4, 2006)
Lark Rise to Candleford
Deluxe Edition
Keith Dewhurst & The Albion Band
Talking Elephant TECD123 (CD, UK, June 2008)
LP/Cassette: recorded in Spring and Summer 1980 for the
Regents Park Recording Company at their St Johns Wood Studios, London.
Narrative by Keith Dewhurst
Produced by Nic Rowley
Associate producers Ashley Hutchings, John Tams
Executive producers Michael Mc Donagh, Alexandra Cann.
Sound engineer Alan Jakoby
Cover design Chess Creative
Front cover photography Roger Perry
Inside pictures Michael Mayhew, Brian Windsor
the ensemble
Pete Bullock
- keyboards
Bill Caddick
- vocals, triangle
Martin Carthy
- vocals
Shirley Collins
- vocals
Howard Evans
- trumpet, flugelhorn
Michael Gregory
- drums
Ashley Hutchings
- bass guitar, vocals
John Kirkpatrick
- vocals, button accordion, concertina, melodeon
Doug Morter
- electric guitar
Brian Protheroe
- vocals, keyboards
Steve Saunders
- trombone, euphonium, tuba
Martin Simpson
- banjo
John Tams
- vocals, melodeon
Graeme Taylor
- electric guitar, vocals
Holmfirth Anthem
(Abroad for Pleasure)
Abroad for pleasure as I was a-walking
On one summer summer's evening clear
There I beheld a most beautiful damsel
Lamenting for her shepherd swain
The fairest evening that e'er I beheld thee
Evermore with the lad I adore
Wilt thou go fight the French and the Spaniards
Wilt thou leave me thus my dear?
No more to yon green banks will I take thee
With pleasure for to rest meself and view the lambs
But I will take you to yon green garden
Where the pretty pretty flowers grow
Source-note: Although the liner notes to The Watersons(1966 Topic 12T125) do not indicate the Watersons' source for this song, the following is as likely a source as any: A Fine Hunting Day: Songs of the Holme Valley Beagles (Leader LEE 4056), recorded by David Bland on March 24, 1973, released 1975. It just doesn't get more authentic than this recording: the "The Holmfirth Anthem" sung by the citizens of Holmfirth itself. This beautiful rendition is led by a local sheep farmer, Arthur Howard, at the Village Hall in Upperthong (in the Holme Valley).
Flora Thompson née Timms.1876-1947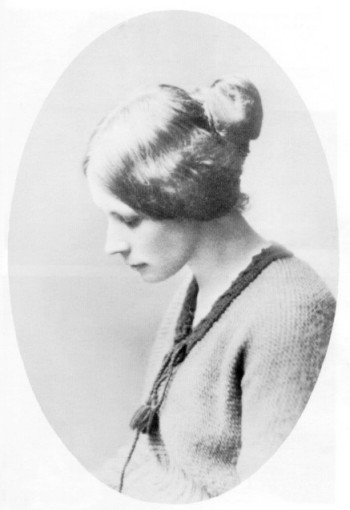 Flora Thompson 1876-1947
The author of the absolutely delightful trilogy, on which this play with music, is based, was the eldest daughter of Albert and Emma Timms,Flora Jane Thompson was born in the tiny Oxfordshire hamlet of Juniper Hill, near Brackley, on 5th December 1876. She attended school in the neighbouring village of Cottisford. After leaving school at fourteen, and moving away from home, for the first time, she worked as a post-office clerk at the Fringford post-office. After four years she left Fringford, and took a number of short holiday-relief engagements in various rural post-offices, then applied for and got the job of assistant at the Grayshott post-office, in Hampshire. There, in due course, she met her future husband John Thompson,himself a post-office-clerk who later became a postmaster. In 1903 John Thompson was transferred to the main post-office in Bournemouth, he and Flora were married and began life together in this large sea-side town. Flora was then twenty-six.
The Thompsons remained in Bournemouth for thirteen years, during which time their two elder children, Winifred and Basil, were born. In 1916 they moved to Liphook in Hampshire, and a younger son, Peter was born a year later. They lived in Liphook for twelve years, until another, and final posting for John Thompson took them, in 1928, to Dartmouth, where they remained until his retirement in 1940. In the early years she supplemented their meagre income with journalism, writing nature essays for The Catholic Fireside, the Daily News, The Lady, and other papers, and in 1921 she published a volume of verse, Bog-myrtle and peat. She is remembered for her autobiographical trilogy Lark Rise to Candleford (1945), published originally as Lark Rise (1939), Over to Candleford (1941), and Candleford Green (1943), works which evoke through the childhood memories and youth of third-person 'Laura' a vanished world of agricultural customs and rural culture. There is a selection of works by Margaret Lane, A Country Calendar and other writings (1979), with a biographical introduction.
Flora Thompson died on 21 May 1947, and was buried in Dartmouth.

The Oxford Companion to English Literature. © Margaret Drabble and Oxford University Press. 1995.