Remembering The Land
Ploughing The Land
This volatile traditional folk ensemble was founded in April 1972 by defecting Steeleye Span bassist Ashley Hutchings (b. 26 January 1945, Southgate, Middlesex, England). Royston Wood (b. 1935; vocals), Sue Draheim (b. August 1949, Oakland, California, USA; fiddle) and Steve Ashley (b. 9 March 1946, London, England; guitar) completed the new venture alongside Simon Nicol (b. 13 October 1950, Muswell Hill, London, England; guitar) and Dave Mattacks (b. 13 March 1948, Edgware, Middlesex, England; drums), two of Hutchings' former colleagues from Fairport Convention. The Albion moniker had already been used by Hutchings to back an album by his wife, Shirley Collins, in 1971. The early line-up disintegrated six months after its inception and a caretaker unit, which included Richard Thompson, fulfilled all outstanding obligations. Hutchings, Nicol and new drummer Roger Swallow then pieced together a second Country Band with folk acolytes Martin Carthy (b. 21 May 1940, Hatfield, Hertfordshire, England), Sue Harris (b. 17 May 1949, Coventry, Warwickshire, England) and John Kirkpatrick (b. 8 August 1947, Chiswick, London, England), but this innovative sextet was also doomed to a premature demise. Their lone album, Battle Of The Field, recorded in 1973, was withheld until 1976, and was only issued following public demand.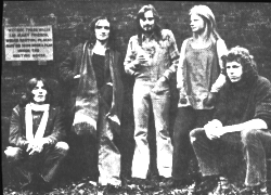 the never-to-be-duplicated Albion line-up of
Simon Nicol,
Martin Carthy, Roger Swallow,
Sue Harris and John Kirkpatrick.
Ashley Hutchings missing in action.
The Players
Steve Ashley
: guitar
Sue Draheim
: fiddle
Ashley Hutchings
: bass
Simon Nicol
: guitar, vocals
Royston Wood : vocals
Shirley Collins
: vocals, banjo
Roger Swallow
: drums
Linda Thompson
: vocals
Richard Thompson
guitar, vocals
Martin Carthy
: guitar, vocals
Sue Harris : vocals, oboe, dulcimer
John Kirkpatrick
: accordion, vocals, piano
Martin Nicholls, John Iveson, Colin Sheen, Paul Beer : sackbuts on "Gallant Poacher"
Dave Mattacks
: percussion on "Reaphook and Sickle".
The Field : 1846-1914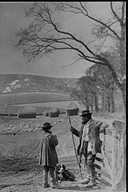 The census of Britain taken in 1851 showed a total population of 20.9 persons, where 10 3/4 million had been counted in 1801 ; in the intervening years, the population had almost doubled and the country had become the largest manufacturer of industrial products in western Europe. Of this population, some 1 3/4 million were engaged in the cultivation of the soil, in the rearing of animals and the care of woods. Those employed on the land were, infact, already a minority of the British people, representing only about one -fifth of the total occupied persons, or one-quarter of the males over twenty years of age. Thus for every adult male engaged in agriculture or forestry, there were three others working in trade, domestic service, or in the professions....The Battle of the Field was already joined.......
Enclosures
The system of appropriating common land as private property. The changing of open field systems to enclosed fields began in the 14th century and became widespread later, resulting in poverty, starvation, homelessness, and rural depopulation. The first laws were passed in 1515, and there were revolts in 1536, 1569, and 1607, and many government measures to prevent depopulation were introduced 1489-1640, including the first Enclosure Act [1603] but these were sabotaged at a local level by land-owning magistrates. There were many popular riots against the enclosures, such as those led by John Reynolds, alias Captain Pouch, in Northamptonshire in 1607. The government passed Enclosure Acts in response to a petition which had been signed by 80% of the owners of the land. Tenants, who rented their land, had no rights in this respect. A new wave of enclosures by Acts of Parliament 1760-1820 during which period about 3500 acts were passed reduced the small land-owning farmers to agricultural labourers, or forced them to leave the land entirely. The Enclosure Acts applied to about 25% of the land in England, and about 17 million acres were enclosed without any parliamentary act. Under the Enclosure Acts, the enclosers had an obligation to create a road-way past the newly enclosed meadows. In most cases, the Enclosure Acts specified the width of enclosure roads as 40 ft. From 1876 the enclosure of common land in Britain was limited by statute. The last major Enclosure Act was in 1903.
Battle of the Somme :1st July 1916
In The Trenches
The battle which took place between July 1st, 1916 and November 13th, 1916 and resulted in over a million casualties, was, in this website's opinion the true end of the innocence, the great loss of those who truly believed in 'the great adventure" and most certainly the end of rural England as it had be known.